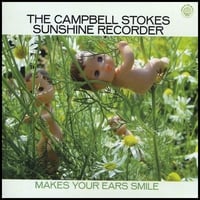 Pop virtuoso, Andy Morten (The Nerves, Bronco Bullfrog) has put his twenty+ years of musical knowledge to the test on his solo effort known as The Campbell Stokes Sunshine Recorder. He's rediscovered his love for British 60's sunshine pop, and you will too, after you hear it.
This starts with a very sarcastic outline of a lame emerging power pop artist (wink, wink) in "Track One" where he starts out "I'm too sloppy for power pop, 'cause I never know when to stop and all my chord progressions sound the same." Then the sunny "She Looks Good in the Sun" covers the period as well as The Parade or The Merry Go Round with delicate guitar riffs and psyche-pop rhythms that are just magical. Next we are paying lip service to 60's wannabe pop star with "Tony Hazzard" complete with kazoos and conceited lyrics about a fop who thinks "if Paul McCartney does it why can't I?" Next, both "Bye Bye Mrs. Bumble" and "Everybody Loves the Good Times" are a light Beatlesque hodgepodge. The wonderful title track "Feel The Sunshine" has a strong hook and uptempo beats sure to put a spring in your step. "TV Jingle Man" mixes Brydsian jangle and Kinks storytelling styled lyrics.
Every track is a winner here – even the bonus track on this disc gets better with repeat listens. It's a perfect gift for the musical anglophile, and I am a sucker for this retro stuff when it's done so lovingly with such self-deprecating humor.