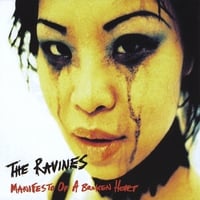 Great albums always slip through the cracks on release, only to be championed by impassioned fans years later. The Ravines first CD Manifesto of a Broken Heart was actually released back in 2005, and if you like the sound of Crowded House, Squeeze and The Gin Blossoms, then this album needs to be heard.
The title track is an excellent pop track, with vocalist Chris Corney commanding a catchy guitar lead to a chorus full of lush harmonies. The album then gets slightly heavier after that, with "Higher and higher" and "Supersize," with hand claps and low riffs that recall the softer pop side of The Goo Goo Dolls. This template continues throughout the album, which is consistently good, and the lyrics are often introspective, but the guitar leads the story along. It's hard to believe these guys fell under the radar for so long. The stories Coreny pens recall Danny Wilde of The Rembrandts, usually a wry commentary on emotional touch points. Highlights include the jangly warning "Best Friends," "Queen Of England" and the fast paced "Rescue Me." Even the final track "The Getway" is a real toe tapper. No filler either, as Corney sings "How you gonna get away?" you can't wait to hit the repeat setting.
This "lost classic" album grows well on you too.