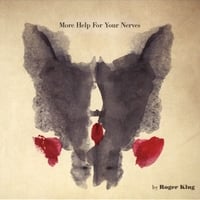 The new, and greatest release from Roger Klug— ten years in the making, is everything power pop fans have been waiting for. Fans of Roger Manning, Steve Eggers, Bleu, Mike Viola, will find everything to love about this album. Full of variety and complex melodies, it will take many listens to really appreciate everything here.
Opening with the ringing guitars of "Tinnitus" it establishes Klug's early volley of guitar heavy brilliance. It's followed by the aggressive "Dump Me Hard" which end in a screaming eenie-meeny-miney-moe! The Partridge-styled "An Artist in the Field" is followed by the jangling highlight "Girl After My Own Heart." Other songs have incredible guitar breaks ("About Time") or turn out a perfect musical bridge ("A Girl Like That") similar to The Wondermints. Other gems include "The Day I Had My Brain Removed" and the stunning "Hi-Hat" and "Bi-Curious" are full of dense riffs that give Greg Pope a run for his money. Even "Man's Man" will recall Joe Jackson's early spirit and energy. The eight minute ending song "Your Diary" didn't drag at all and reprises a few of the album's earlier melodies, like a grand finale should.
A few don't float my boat, like the show piano ditties "Witch From Hell" and "Bogeyman," but that's me being picky. There are more highlights here that I can mention, and Klug really mixes his tuneful melodies with a deft touch I've not heard since Andy Partridge himself.
Like manna from heaven, it should be savored again and again.