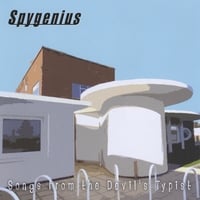 Sometimes you get lucky and a great band just pops up, like Spygenius. This electric four piece from London, starts with a Beach Boys a capella opening ("Dumb Angels") then gets all hippy funky, similar to the 1910 Fruitgum Company with "The Ballad Of Dr T.F. Bundy & His Hirsute Sweetheart." The next track "I Want That Girl" sounds like Jack Bruce (Cream) fronting for a Doors/Jellyfish hybrid. The band mashes together some diverse 60's and modern influences, in a very original way. Songwriter Peter Watts does a great job here mixing the psychedelic stew of chords and harmonies on "Gilgamesh" as well.
The album highlight here is the quirky masterpiece "Pineapple Drive" where it's jammed together in a party atmosphere. The humor here is akin to Bonzo Dog Band, without being too over the top silly. Then the album's serious side appears on "13 Years (May Song)" where they channel Crosby/Stills/Nash. As the album progresses the sixties influences fade. The softness of the "A Bottle Of Reds & Two Good Friends" will remind many of Rick Gallego and Cloud 11. The latter tracks have a more modern feel ("Wintergarden Summertime") sounding a little like Green and Yellow TV.
Overall an outstanding album that is sure to hook you in and keep you humming. I will go out on a limb here and say this eclectic mix deserves a spot on our year end "best-of" list.