I am happy to welcome back to the new Rock and Roll Report our correspondent from France, Gérard Girard with a new record review to kick of the week. Merci Gérard!
JORGES "possibly now" www.jorgesmusic.com/www.myspace.com/jorges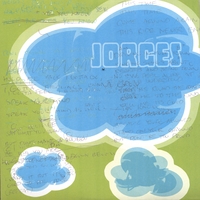 Attention talent! ce garçon est brillant!!! la Pop telle que je la conçois depuis toujours, faite de mélodies, d'harmonies, de vraies chansons qu'on a envie de fredonner toute la journée. De toutes les façons on est obligé de le faire vu que la majorité des 11 titres présents sur cet album sont des tubes en puissance!! Jorge Gonzales Graupera a à peu près tout compris à l'idiome Pop. Il écrit, joue, produit et chante tous ses titres et on comprend que "girlfriend" apparait dans des séries tv tellement cette chanson est EVIDENTE. Rine à rajouter, j'exige simplement que tous les lecteurs de Rock'nRoll Report achète ce disque : c'est un ordre!!!
Attention fans! This guy is brilliant ! I have always believed that good Pop should consist of strong melodies, harmonies, real songs that one ends up humming all day. In any case one comes to the realization that the majority of the 11 tunes on this album are a tour de force! Jorge Gonzales Graupera is ready to take on all aspects of the Pop genre. He writes, plays, produces and sings all his songs and we now understand why "Girlfriend" appears in shows on TV, that much is evident. Nothing more has to be added, I implore that all readers of The Rock and Roll Report buy this CD. That's an order! (translation by Mark)
By Gérard Girard