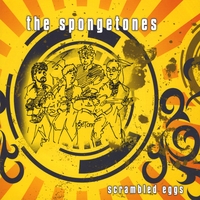 When I last left Jamie Hoover and company it was a celebratory return to form, with "Too Clever By Half". The Spongetones are one of the few, great power pop bands from the early 80's that have outlasted almost everyone else. This time the band jams with a terrific opener "All the Loving" and it's full of jangle and strum that harkens back to their Beatlesque traditions. And like your favorite comfort food, it's easy to lap up.
But Jamie hasn't lost the ability to take things in other directions, with "Inevitable You" a sweet mid-tempo ballad about longevity in a relationship (with a band mate or spouse). A more grizzled take on the band's future comes across on "It Can't Go On Forever" and the bouncy "Lost Weekend" continues the jangle party. Certain songs have a slightly more adult progressive feel, similar to The Pillbugs on "Where Ya Gonna Go" with it's speedy baseline lead and the folk pop of "Propeller Flights." Even a venture into the blues with "Tough Love" show us that it's not all sweet pop, similar in style to the Fab Four's "I Want You (She's So Heavy)."
Even though everything here isn't as accessible as the last album, the grand melodies of songs like "Too Unlikely Two" with it's dual guitar solo are a joy to behold. There is plenty here for the long time 'Tones fan, like the Monkees' guitar rythyms of "Karma Depleted," the hummable "Pick That Up For A Song," and sparkling Rickenbacker on "She'll Be Gone." With such an eclectic mix of styles here, you understand why they called this one "Scrambled Eggs." As long as Jamie and the boys are cooking, I'll order this special anytime.