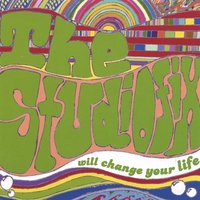 Artist: The Studiofix
Genre: Power Trio Rock
Label: Avebury Records
Available at: CDBaby, iTunes (or at shows for a deep discount)
This is the first release from the Orange County, California trio. I came across this band while checking out the Santa Fe Café (also known as the
Fullerton
train station) where new bands trying to get some stage time and maybe some tip money can play for their closest friends & family and folks waiting for the next Amtrak to
Oceanside. Seeing them perform live I got a good sense of what their musical style was, but the lead singer's vocals were drowning in the sound setup. However, on the CD the vocal punch provided by Nicole "Paco" De
Leon
adds another dimension to their sound.
The band, whose myspace page says they sound like everyone and everything you've ever heard is kind of right, but in a good way. It's the stuff you like hearing. Throughout the album, I detected flecks of Hendrix, No Doubt and even Joe Jackson, but couldn't quite put a single description on them. While each of them does their thing well, especially notable are the Mitch Mitchell-esque fills of drummer, Jacqueline Pablo. And don't be too distracted by bassist Jenna Eyrich's trademark galoshes to notice she's pretty damn good on bass.
Album highlights: Pity the Fool and Magical Michael open up the CD with a solid, in-your-face rock grooves, just when you think you've got their sound pegged, they shift gears to something more thought provoking in The Latter Years, then back to the rock stuff. C'est La Vie shifts again; I hate you Studiofix, this song got to me and I was reduced to tears. But…all is forgiven with the final song Robots (which along with 1,2,3,4, Stop) is so much delicious, head-banging, non-sensical goodness.
Not bad for a first release from a band who just stared playing together recently. Yes, they're all girls, but don't get caught up labeling them a "girl" band, they are a "rock" band.
After their set, I asked to do a quick interview. They gave me the exclusive (okay, I was the only one there, but they were kind enough to oblige, and fun to interview, so here you go):

LG: Names and job duties, please.
SF: Niclole De Leon (aka Paco)-Lead Guitar, Vocals
Jacqueline Pablo-Drums
Jenna Eyrich-Bass
LG: How did the band get together?
SF: We all went to the same high school
Paco: I Thought it would be fun to start a band. I bought a crappy $40 bass from a guy in
L.A.
, gave it to Jenna and asked her if she could learn how to play it.
Jenna: I played piano, so I figured I could.
Paco: We needed someone who had access to drums. Jacqueline's brother had drums so we asked her. Actually, we asked her sister who was in our class first and she declined, so then we asked Jacqueline.
LG: Is the band a serious career pursuit or just a hobby?
SF: Both
Paco: We're all college students, but working on the band too.
LG: Where, What Year, What are you studying?
SF:
Paco-Cal
State
Fullerton
, Junior, Pre-Law
Jenna-USC-Junior-Pre-Law
Jacqueline-Fullerton
Colleg, Freshman, Economics
LG: Who are your musical influences?
SF: The
Jackson
5, The Beatles, The Kinks, James Brown, Queen, Oingo Boingo,
LG: Where and when was your first gig?
SF: Jenna: I'm really glad you asked that question. I would like to follow that up with a piece of advice…if someone you meet over the internet asks you to play at his house, take heed. You could get killed.
Paco: Not that we were harmed or anything, but in retrospect, it seemed unsafe. We were asked to play at a party at some guy's house in
L.A.
in February 2005
LG:How long had you been together before that gig?
SF: Paco: 2 months
Jacquesline: Seriouly? Oh yeah.
LG: Finish this sentence: In five years, the Studiofix will be…
SF: Paco: On the cover of US weekly, shmoosing with Mariska Hargetay of Law & Order
Jacqueline:…and Donnie Osmond
Jenna: On welfare.
I seriously doubt that. For more info on The Studiofix and shows, go to www.myspace.com/thestudiofix. They have several dates around L.A./O.C. in the next months. There's also some video up on youtube, but the qualitiy is marginal.
Lisa
THE STUDIOFIX: Will Change Your LifeNot old enough to buy a drink, but old enough to combine the urgent angst of Eddie Cochran with the funk of James Brown and melodies of The Beatles. Garage without being '60s. '60s without being retro. Feminine without being girly.
Power trio rock 'n' ro