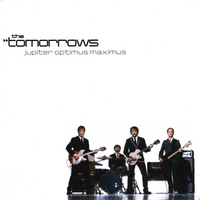 Members of The Roswells, one of the best Canadian pop bands ever, have formed this new group. This new release by The Tomorrows, follows the classic power pop template, with elements of Velvet Crush, Big Star, and Badfinger all come into play here.
"Effortless Lee" is everything a fan could hope for in an opening single, with melodic jamming and swirling riffs that take the best of The Roswells sound and add the Beatles/Badfinger elements to the mix. "Love Is Dead" brings forth comparisons to Cheap Trick and The Rubinoos, with great chord changes and impressive backing harmonies. The title track is an expansive janglefest that recalls the past, but follows the band in a light mid-tempo mode about the largest temple in Rome. It follows with the gem "Don't Worry About Me" complete with heavier guitars and smooth harmonies along the lines of Teenage Fanclub. The subject matter is also fresh, for example "Anime" is fanboy dream theme that sparkles with "You've got eyes so big, they're scary pretty… I wanna be in Anime with you."
Every track here is excellent, without any filler to be found – although the ending six minute opus "Remember" drags into a wandering jam session. But there is enough rock and roll goodness here to have The Tomorrows earn my first nomination to the best of 2009 list! Kool Kat Musik is offering a bonus disc with this release which include live tracks and a Beatles tribute! Wink, wink, nudge, nudge – say no more!