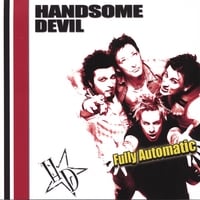 And the blitz continued unabated! Today have a listen to Handsome Devil, a very in your face, loud and proud band from Orange County, California (congrats Ducks!). With influences as diverse as Bruce Springsteen and the Ramones, they remind me a bit of classic Kiss but as usual, your mileage may vary.
Their music is described as "fist-pumping anthems" and a quick listen to Getting You Off definitely leaves no reason to argue but the song that really hit me between the eyes was Ten Seconds Ago, the type of song that locks into that perfect groove and can be played over and over again without a break.
Absolutely first rate, full bore melodic rock and roll with a satisfying heavy crunch, Handsome Devil made these rock and roll ears smile with joy. Check out their MySpace page and have a listen for yourself:
http://www.myspace.com/handsomedevil
Here's the promo video for their new CD Fully Automatic:
Later.
Mark