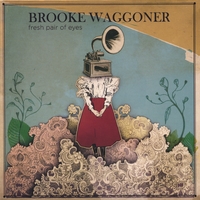 Fresh Pair of Eyes is the debut release by Brooke Waggoner, who was born in Houston, Texas, but was raised in the coastal town of Morgan City, Louisiana. While living in Louisiana, Brooke began taking piano lessons at the early age of 4 and didn't finish her training until she turned 21 during her senior year at Louisiana State University.
Although she made it into the Top 10 in MTVU's Best Music on Campus Competition as part of a Christian rock group, Brooke has since changed her musical direction. Her current style has only a few religious overtones, giving way to a more contemporary pop sound.
It is that style that was shaped while Brooke was in college. Brooke has received her degree in composition and orchestration. With that education, she has started writing music that has a style that is a cross between Tori Amos, Electric Light Orchestra, Rodgers + Hammerstein, and Chopin, among others. To say that Brooke's style of writing is complex would be an understatement; however, it is still very listener-friendly.
One of the most entertaining songs on the 6-song EP is "So-So," a fictional look at a moving day. Each line in the song ends in a word that has a long O sound. Some of the rhymes are a little far-fetched, but that just adds to the lightheartedness of the song.
Having been trained to be a composer and arranger has really given Brooke a leg up on her contemporaries. While most of the musicians out there today would have to ask someone to write arrangements for them, Brooke can simply write out the arrangements to fill out her sound.
Currently, Brooke Waggoner calls Nashville, Tennessee home as she is focused on the task at hand of promoting her new CD, Fresh Pair of Eyes. Download the entire EP straight from Brooke's website for absolutely NOTHING. This the time to check out one of America's most talented up-and-coming artists and see what you could have missed.
To check out Brooke Waggoner and her free music, go to www.brookewaggonermusic.com or www.myspace.com/brookewaggoner.
Matheson Kamin