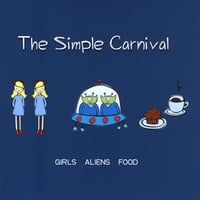 The Simple Carnival does not rock. Pittsburgh based singer/songwriter Jeff Boller couldn't agree more. After all "there are a million musicians who play rock better" he says. Instead Boller excels at sunny pop melody so sweet and bubbly, you may even think you're listening to a kids album. But you're not, and like Mitch Friedman's "Game Show Teeth," it's good natured and inventive pop melodies that are a joy to listen to. Try to imagine if Harry Nilsson and Brian Wilson collaborated on Sesame Street and you get the idea.
Opening with the gentle harmonies on "Really, Really Weird" it sparkles with it's catchy chorus. The impressive "Caitlin's On The Beach" shows off for you Beach Boy fans out there. "Flirt" has a '70s styled piano pop bounce similar to Seals & Crofts that is just infectious. The angelic a cappella overdubs on "Nothing Will Ever Be As Good" are so crisp, that it's comparable to Jeffery Foskett. The mid tempo "Misery" is another story-styled song that reminds me lyrically of Andrew Gold or Henry Gross. Even the last track, "Hey Lancaster" builds to a shimmering crescendo of vocals and keyboard overdubs. Boller plays all thirty or so featured instruments himself, layering their sounds one at a time in his basement studio.
Every track is solid throughout and "Girls Aliens Food" should rightfully be called a soft pop masterpiece. It's a precise musical craftsmanship that shouldn't be missed.
Read more reviews at Power Popaholic
Aaron Kupferberg